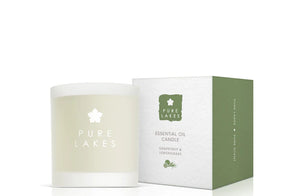 A HANDMADE CANDLE USING NATURAL, SUSTAINABLE PLANT WAX & PURE ESSENTIAL OILS.
Made using a blend of rapeseed & coconut wax
Contains only essential oils to create a natural & beautiful scent
Grapefruit:

 

cleanses & stimulates
Lemongrass:

 

balances & revives
Basil:

 

invigorates & refreshes
Does not contain perfumes, paraffin, petroleum products or animal wax content
Set within a reusable glass jar
Uses a natural cotton wick & will burn for approximately 45 hours
NATURAL. CRUELTY FREE. ETHICAL. VEGAN FRIENDLY. SCIENTIFICALLY FORMULATED.